Under the guidance of our engineers with expert license our experts who have several decades of experience in local bridge testing and our laboratory accredited for "Testing Steels and Joints" offer the provision of the following services: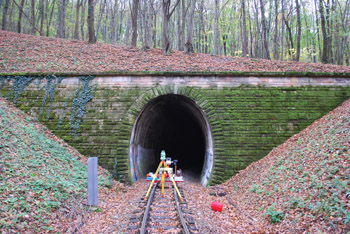 Periodical and non-scheduled tests of existing bridges (railway and highway bridges, footbridges, signalling and protecting bridges), hall structures, crane ways, (troubleshooting, qualification, establishing repair methods, specifying technical contents of the repair works).
Technical supervision, work qualification, qualitative acceptance at general overhaul of bridges (painting, bridge sleeper replacement, repair and replacement of load-carrying elements)
Bridge testing before putting it into service.
Load test.
pre-qualification of steel structure producing and assembling plants.
Tensile strength test (test of concrete steels, concrete testing stands and steel specimens up to 1000 kN).
Fatigue test (test if basic materials, riveted, bolted and welded joints up to 500 kN).
Bending and alternating bending tests.
Notch shock test (traditional and instrumental Charpy tests).
Metallography:

macro and micro testing of cuts, hardness test.

Geometrical and destructive tests of welded joints.
Local non-destructive test, control and evaluation of stressed-bolt (NF) and welded joints.
Control measurement of adjustable nut wrenches.
Standard tests of high strength tension bolts and tension bolt joints.
Research in the field of materials and steel construction joints of bridges and other steel structures.
Technical suitability tests of traffic construction structures.
Qualitative acceptance of materials to be incorporated.
Supervision of and giving expert opinion about production and assembling technologies.
Performing tests during production, assembly and construction, compiling qualification documents.
Suitability test and evaluation of railway and highway bridges.
Construction supervision tests and inspections.