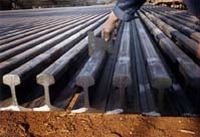 The railway pays a special attention to the qualification of materials, from which the railway track is built. The safe train service, one condition of whose is the reliable operating of the materials that are built in the track (rails, wooden- and concrete sleepers, fastenings, etc.) and structures (turnout, expansion construction, bull stop, pasted block joint, etc.) for a long time requires beside the usual, quality control provided by the manufacturer, the contribution of a qualifying organ, which is independent from the production.
Qualification of new permanent way materials
We perform tests, qualification and acceptance of new permanent way materials used for railway construction at different production factories.
Rail systems 48, 54 and 60kg/m

in a length rolled for railway construction or in a welded state;
in length (>100m) rolled in one piece for high speed tracks;
in a state heat treated for special loading.

Rolled products, casts and bolts for different structures (switches, crossings, etc.)

switch blade and guide-vail;
manganese (Hatfield) steel and carbon steel crossing casts;
normal- and high-strength bolts;
clip srews.

System 48, 54 and 60 turnouts (e.g. types XI, XII, XIII and XIV), switches, crossings, track connections etc. of various angle

spare parts for various structures;
various types of concrete railway sleeper for track constructions and anchorage of turnout structures;
various types of transitional, wide- and narrow gauge sleepers and other concrete products;

spring elements
Grower rings
springy fasteners
structure fastening plate springs etc.
plastic elements
plastic inserts with screws fastening
various types of baseplates and spacers
rail end inserts
plastic fishplates
impregnated and green timber railway sleepers, bridge sleepers and other wooden products
aluminothermic welding batches, accessories, forms, devices
hídszerkezetek hengerelt és öntött alapanyagai.
We prepare qualitative acceptance reports on the quality of permanent way materials according to the relevant products standards. This report ensures an independent objective evaluation of the quality certificates issued by the manufacturers.
Re-qualification of used permanent way materials
Purpose of qualification process:
Trough the objective determination of abrasion and wearing parameters ensuring the maximal and optimum recycling of different materials and structures regained from the railway trackage.
Pre-qualification:
In-service testing (before taking up) of different permanent way materials and structures to be decomposed by means of local measurement and by technical estimation based on test data and visual inspection in order to identify recycling parameters and the repairs required.
Final qualification:
Following selection, classification and performance of required repairs according to the prequalification and then the new installing of materials into the railway, testing rail structures by elements, measuring and documenting technical parameters for the purpose of issuing a Qualification Certificate. For this purpose the results obtained by track diagnostics are also taken into account. Final qualification has special importance in putting the railway network built from recycled materials into service (industrial track, station sidetrack, in some cases parent track as well), a technical procedure conducted by the authorities.
Main elements of used materials to be re-qualified:
turnouts (all lay systems)
rails ("i", "C", "I", 48, 54 and 60 systems)
railway sleepers (cross-tie, pre-stressed concrete sleeper, iron sleeper)
fastening devices (rail, T-screw- and fish bolts, braces, etc.)
ballast (crushed stone, pit gravel, etc.)
test of reinforced concrete products ("Bodán", "L", platform element, etc.)
bending and fracture fatigue tests to determine lifetime and loadability of rails, joints with fish-plates and glued joints, and weldings.